The Roadmap to Manifesting: 10 Steps to Help You Achieve Anything
Ever wondered why some people seem to get exactly what they want in life? Is it luck, or do they possess the secret to success?
But for those not new to personal growth, you'll know that success isn't about luck – it's about being clear on what you want, taking the appropriate steps to achieve it, and of course visualizing your dream and sending your wish out to the Universe. Or put more simply: "manifesting".
But as with any success we're trying to create, there is a process, or formula if you will, to getting it right.
So if you could use some help to kick your dreams into gear, check out this article,How to Manifest Anything You Want to learn how.
While it may not make your greatest desires magically appear it will give you an idea of the little things you can immediately do to put them in your reach.
Steve Jobs: The Most Important Life Lesson Of All
By Darpan Sachdeva
In this heartfelt speech by the late Steve Jobs, he describes how losing his company, and feeling like a public failure affected his outlook on life.
After having been fired from his own company, and done so very publicly, how was he able to start over after having being rejected, and what were the priceless life lessons he learned?
Watch this 4-minute clip to hear his story and final words of wisdom.
(Video) Discovering Your Own Dreams & Being Your Own Hero
By Darpan Sachdeva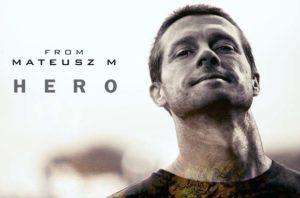 This motivational video created by Mateusz M is a goldmine of inspiration for all of those who are struggling right now to find their greatness. To face their fears and follow their dreams.
"Often, our most rewarding dreams are staring us right in the face, but for some reason we focus on how hard things are, how we are scared of the unknown and what would happen if we failed." -Darpan Sachdeva 
In order to achieve greatness you have to push through the adversity, obstacles and critics if you want to reach the gold at the end of the rainbow.
If you are willing to fight your way through the battles, and break through the fear you will reap the incredible benefits when you reach the other side.
This video is a message for those who are currently struggling and facing adversity and makes for a great reminder of what we can achieve if we just push on and don't stop when the odds seem to be against us.

Motivational Video – Be A Hero

Darpan Sachdeva is the CEO and Founder of                                     Nobelthoughts.com With a long time passion for Entrepreneurship, Self development & Success, Darpan started his website with the intention of educating and inspiring like minded people all over the world to always strive for success no matter what their circumstances.To keep going and never get disheartened and learn from every adversity. –