by Darpan Sachdeva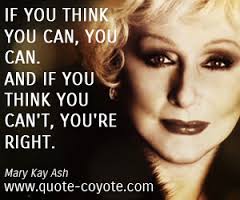 Mary Kay Ash,the founder of Mary Kay Cosmetics,atributed her success  to the development of self confidence and faith  in herself  and all the people in her vast organisation.,which now consists of  more than 250,000 independent beauty consultants worldwide.
Mary Kay preached and practised that the first in achieving success is to firmly  believe that you are an excellent person who deserves success.Here are her 4 principles  to help create an image of excellence and begin create an atmosphere of  success in your life.
1.Imagine yourself successful.
Always picture yourself successful.Visualise the person you desire to become .Set aside the time each day to be alone and undisturbed.Get comfortable and relax.Close your eyes and concentrate on your desires and goals.See yourself int his new environment ,capable and self confident.
2.Reflect on your past success.
Every success be it large or small,is self proof thata you are capable of achieving more success.Celebrate each success.You can recall it when you begin to lose faith in your self.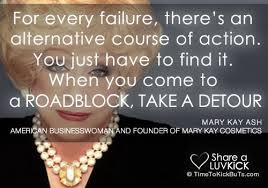 3.Set definite goals
Have a clear direction of where you want to go.Be aware when you begin to deviate from these goals and take immediate corrective action.
4.Respond positively to life.
Develop a positive self image .Your image ,your reactions to life  and your decisions are completely within your control.

Darpan Sachdeva is the CEO and Founder of Nobelthoughts.com. With a long time passion for Entrepreneurship, Self development & Success, Darpan started his website with the intention of educating and inspiring like minded people all over the world to always strive for success no matter what their circumstances.To keep going and never get disheartened and learn from every adversity.