by Darpan Sachdeva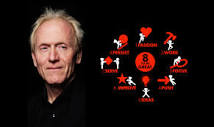 Why do people succeed? Ten years of research and 500 face-to-face-interviews led Richard St. John to a collection of eight common traits in successful leaders around the world.
                               (Video) Richard St.John – The 8 Traits Of Successful People
Why do people succeed? Is it because they're smart? Or are they just lucky? Neither. Analyst Richard St. John condenses years of interviews into an unmissable 3-minute slideshow on the real secrets of success.

About Richard St. John
A self-described average guy who found success doing what he loved, Richard St. John spent more than a decade researching the lessons of success — and distilling them into 8 words, 3 minutes
                                                       8 Secrets of success

Darpan Sachdeva is the CEO and Founder of Nobelthoughts.com. With a long time passion for Entrepreneurship, Self development & Success, Darpan started his website with the intention of educating and inspiring like minded people all over the world to always strive for success no matter what their circumstances.To keep going and never get disheartened and learn from every adversity.