by Darpan Sachdeva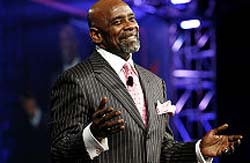 Chris Gardner, who went from being homeless to becoming a millionaire entrepreneur is sharing his advice and life lessons with all on how we can fulfill our dreams despite all odds.
Will Smith portrayed Chris Gardner in the True Story, hit movie "The Pursuit Of Happyness".
                      (Video) Chris Gardner UC Berkeley Speech 2009
             Chris Gardner – Looking for a Job vs Creating an Opportunity

Darpan Sachdeva is the CEO and Founder of Nobelthoughts.com. With a long time passion for Entrepreneurship, Self development & Success, Darpan started his website with the intention of educating and inspiring like minded people all over the world to always strive for success no matter what their circumstances.To keep going and never get disheartened and learn from every adversity.