by Darpan Sachdeva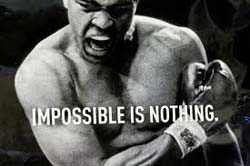 This Video shows how true it really is that Nothing is Impossible. Put 7 Minutes aside to be Inspired by this Amazing Video.
Impossible is just a big word thrown around by small men who find it easier to live in the world they've been given than to explore the power they have to change it. Impossible is not a fact, its an opinion. Impossible is not a declaration. Its a dare. Impossible is potential. Impossible is temporary. IMPOSSIBLE IS NOTHING! ~ Adidas
Impossible is nothing Motivational Video

 Darpan Sachdeva is the CEO and Founder of Nobelthoughts.com. With a long time passion for Entrepreneurship, Self development & Success, Darpan started his website with the intention of educating and inspiring like minded people all over the world to always strive for success no matter what their circumstances.To keep going and never get disheartened and learn from every adversity.