By Darpan Sachdeva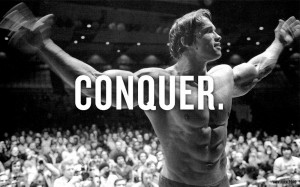 The best body builder of all time, Arnold Schwarzenegger.
A little known fact about Arnold Schwarzenegger is that, upon arriving in the USA to compete in professional bodybuilding, he professed to coach Joe Weider that he would one day like to move from bodybuilding into acting, then property and finally politics. While many could have forgiven Weider for not paying too much attention to those pipe dreams, Arnold then went onto accomplish every single one in the exact order he planned to.
Whether you plan to use these 6 rules in the gym, to help you focus more at work to get that promotion or even starting your own business and creating a life of full design.
What we suggest here at Noble thoughts is to actually begin applying these steps to your overall life. The impact and sense of freedom it will have on your everyday life is incredibly positive.

 Darpan Sachdeva is the CEO and Founder of                                   Nobelthoughts.com With a long time passion for Entrepreneurship, Self development & Success, Darpan started his website with the intention of educating and inspiring like minded people all over the world to always strive for success no matter what their circumstances.To keep going and never get disheartened and learn from every adversity.